TAJ MARRAKECH VILLA RENTAL
The Taj Villa was voted the most beautiful luxury villa rental for marrakech weddings, birthdays and corporate event in Marrakech and seminars, intended for exceptional weddings, unforgettable birthdays, company business seminars, yoga or fitness retreats, or simply for a family holiday.
Discover our unique villa, which is undoubtedly one of the most beautiful riads in Marrakech.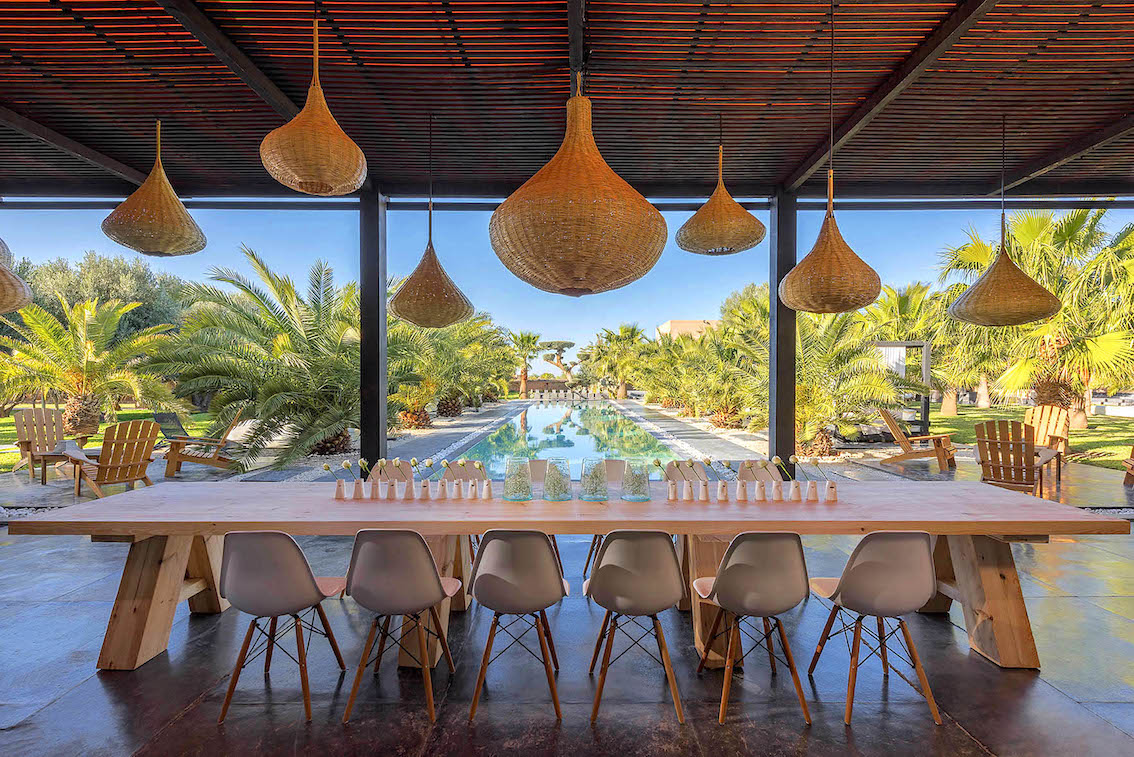 To exclusively rent this house, with the largest pool in Marrakech, is one of those rare privileges in life. This can be either a simple rental or a full-service Villa.
It can be a simple villa rental or a global event with the professional event planners team of the villa to organize your wedding, birthday, seminar, product launching, party…
The property has 21 rooms and can host up to  52 people sleeping at the villa and up to 150 for an event, depending on the set-up. The house's staff is included in the hire : chef, cleaning staff, barman, pool maintenance, gardeners, with only the meals and activities (quad bikes in the desert…) invoiced on top.
2 other villas nearby can also be privatized only to host more guests sleeping (up to 20 more).
To make you feel great and relax, the villa has for you 4 water spots : 
the

25 meters pool heated on request

the 10 meters giant bathtub to share moments having a drink in the water with your friends.

the oversize Jacuzzi for 25 guests.

a water "zen" space with Balinese beds in the middle of a water rivulet that will lull you while resting.
Viila Taj Organization, professional event team will help you to plan and organize your tailor-made events thanks to their perfect knowledge of event planning and of the specificities of Morocco to let you fully enjoy your moment fully without thinking of all the questions in relation with the organization.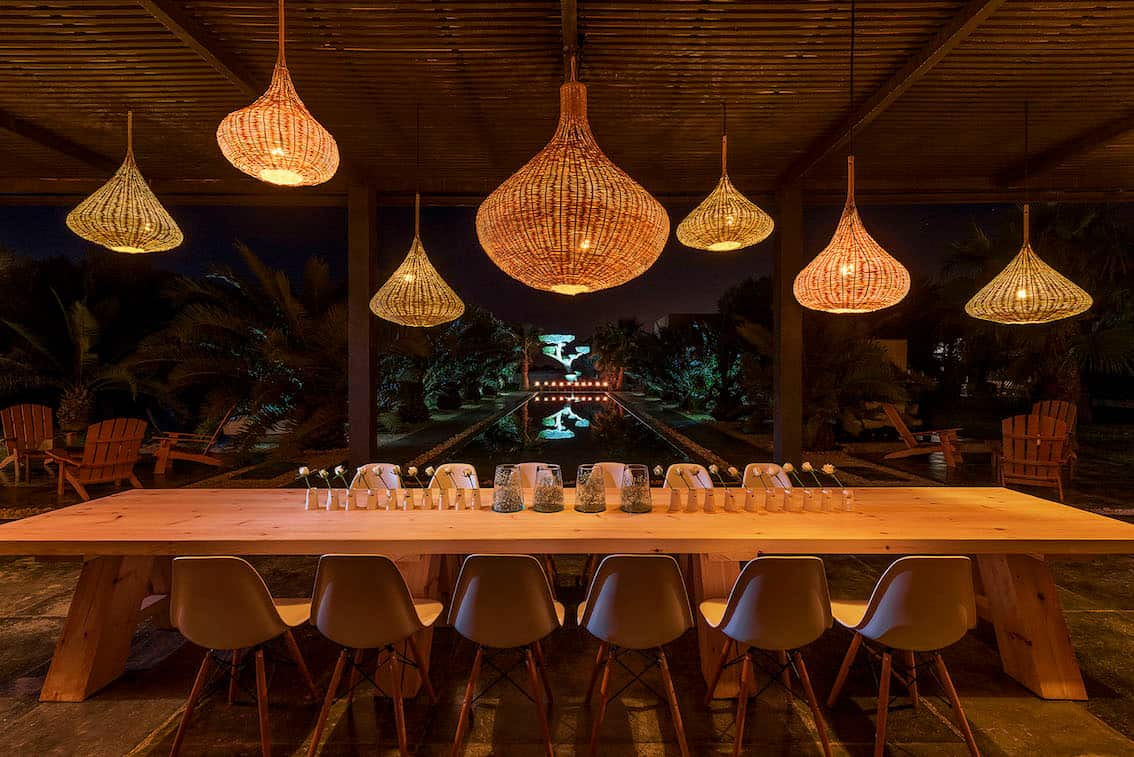 ORGANIZING A WEDDING IN MARRAKECH
Weddings birthdays and corporate event in Marrakech
The Taj Marrakech Villa organizes exceptional weddings in Marrakech with all the coordination and organization necessary for a smooth running event. This 21 bedrooms villa can host between 20 to 150 guests for a weddings and celebrations.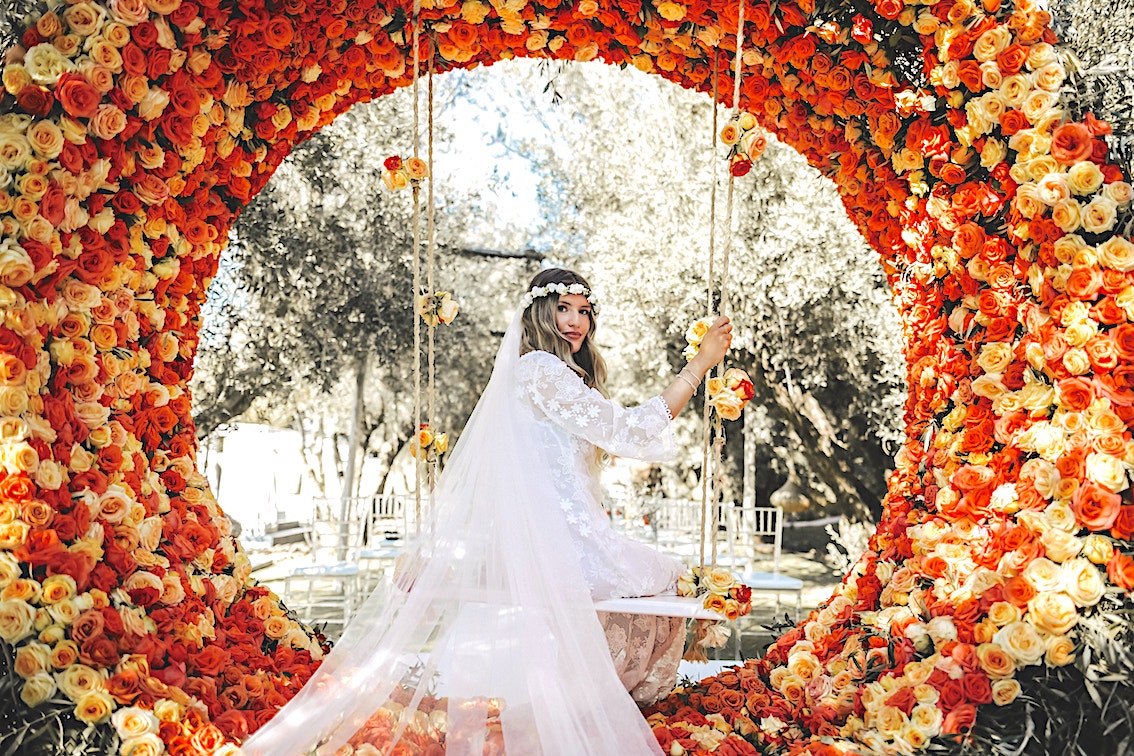 A dedicated team of Wedding Planners takes cares of the organization and staging of different settings that punctuate your wedding: 
A

non-denominative ceremony beneath the olive trees

,

A

wine reception

on the upper terrace,

A

catered dinner hosted by a chef

,

A

dancefloor with an international professional DJ

,

And a high quality entertainment and

exceptional decoration

that perfectly offset the colours of the Moroccan sky.
The day following your wedding, the villa offers a high end buffet lunch set in the shade of the olive trees and flowing curtains. A long table laid with a boho style decoration giving the priority to the bucolic atmosphere with wood and pampa grass bouquets.
The night before your wedding, a "welcome dinner" is organized in the 1001 lights tent of the villa, an oriental evening that will immediately take you in the magic of the warm and welcoming Moroccan nights, in the rhythm of the smooth lights dancing on the hangings of this majestic tent and its oversize terrace bar. In other words, you will enjoy a Moroccan evening far from the usual noisy and similar tourists venues in Marrakech.
Outside the villa, you can also benefit from our precious contacts to book and potentially privatize for you and your friends the most beautiful restaurants and riads in the Medina (historic city center), to see and experience another Marrakech.
A "millimetric" wedding organization with our senior event planners with a follow up the months before the wedding to achieve the perfect result on the day and make you feel that everything goes fine, smooth and happy.
100 wedding photos album on this link : https://goo.gl/photos/sfLCpPueb8wFY3J59
Marrakech weddings Marrakech birthdays Marrakech seminars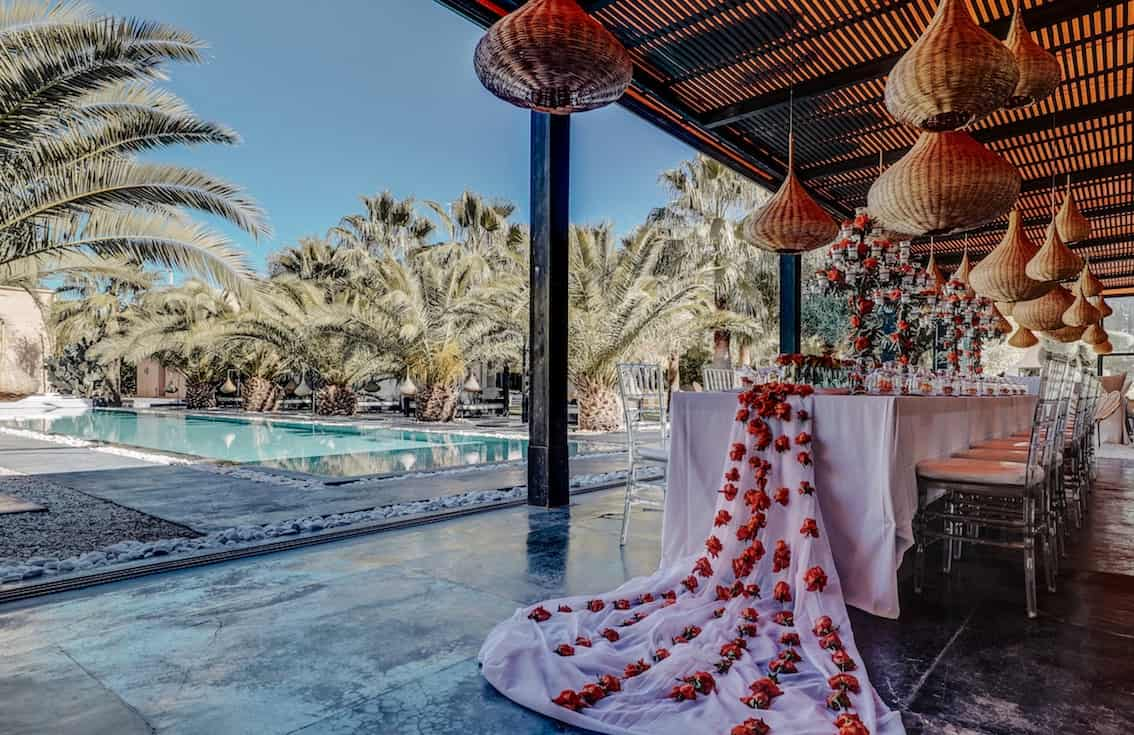 ORGANIZING A BIRTHDAY IN MARRAKECH
Renting an exceptional residence to invite all of your friends to celebrate your birthday creates one of life's cherished memories.
The Villa Taj Marrakech is ideally suited to hire for a birthday weekend.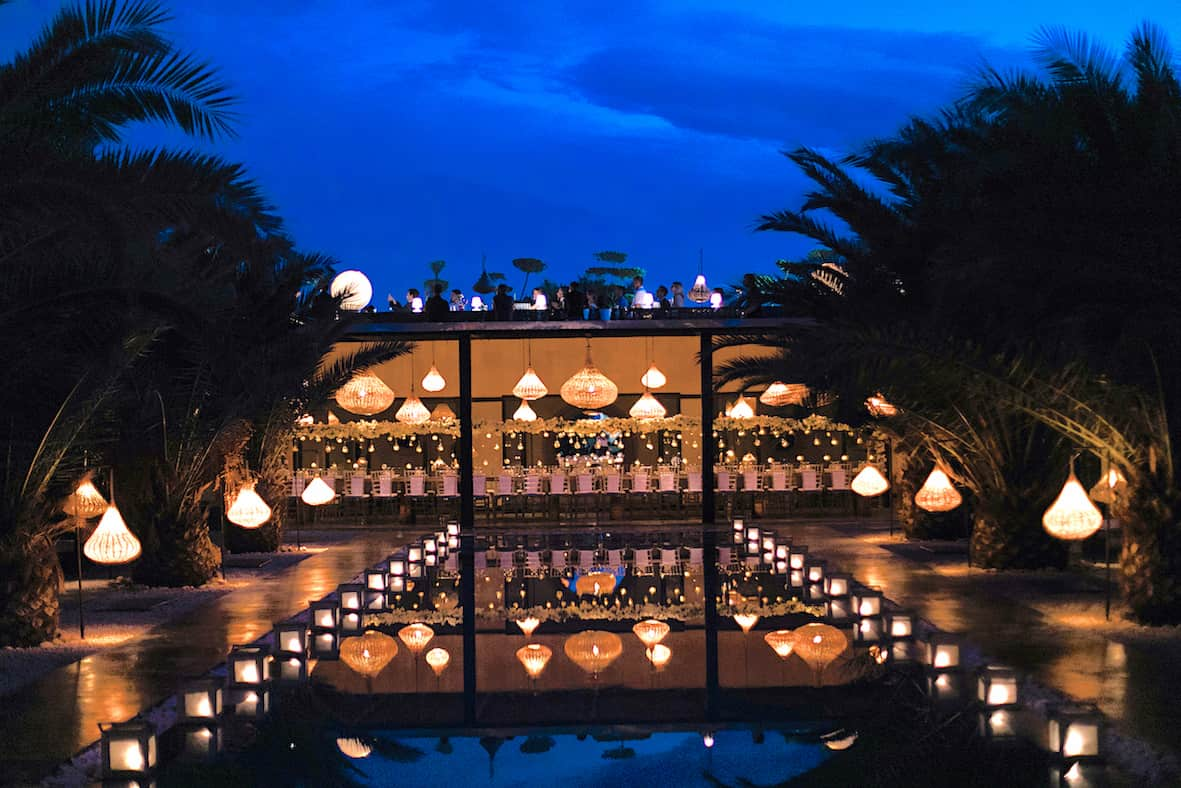 The Villa's team takes care of the whole organization, setting up the cocktail, dinner, party, birthday cake, brunch and quality entertainment.
The team also organizes excursions on quad bikes, buggies or 4×4's in the Marrakech desert with an "Out of Africa" lunch or dinner.
An unforgettable birthday weekend supervised by a team of professionals that manage everything while you enjoy yourselves.
You may celebrate your 30, 50, 70 or 80th birthday, you can be 40, 50, or 120 guests at the villa, Villa Taj offers you a huge variety in the program you will create for your guests.
The organization team of your birthday in Marrakech will work in order to have everybody involved in the moments, that nobody feels apart from the others because of his age, his small knowledge of other guests… Everybody will gather together for moments of conviviality and activities thoughts and prepared to please everyone.
Marrakech weddings Marrakech birthdays Marrakech seminars
ORGANIZING A CORPORATE EVENT IN MARRAKECH
Villa Taj event planning team organizes corporate events and business seminars from 20 to 150 participants with accommodation from 20 to 52 guests in the 21 rooms of the property and can also help you in the accommodation of extra guests in the villas and hotels nearby, with permanent shuttles between the different locations when needed.
Organization of unique made-to-measure Team Building

activities, excursions on quad bikes, buggies, 4×4's in the Marrakech desert, lunches and dinners.
Organization of gala evening events with cocktails

, high class entertainment, fire shows, caterers….brunch, private hire of riads in the medina for dinners in the heart of Marrakech.
Organization of "Moments of exception"

: Villa Taj offers you the possibility to have access to many confidential addresses and non-touristic places, rare and historic, for unforgettable moments.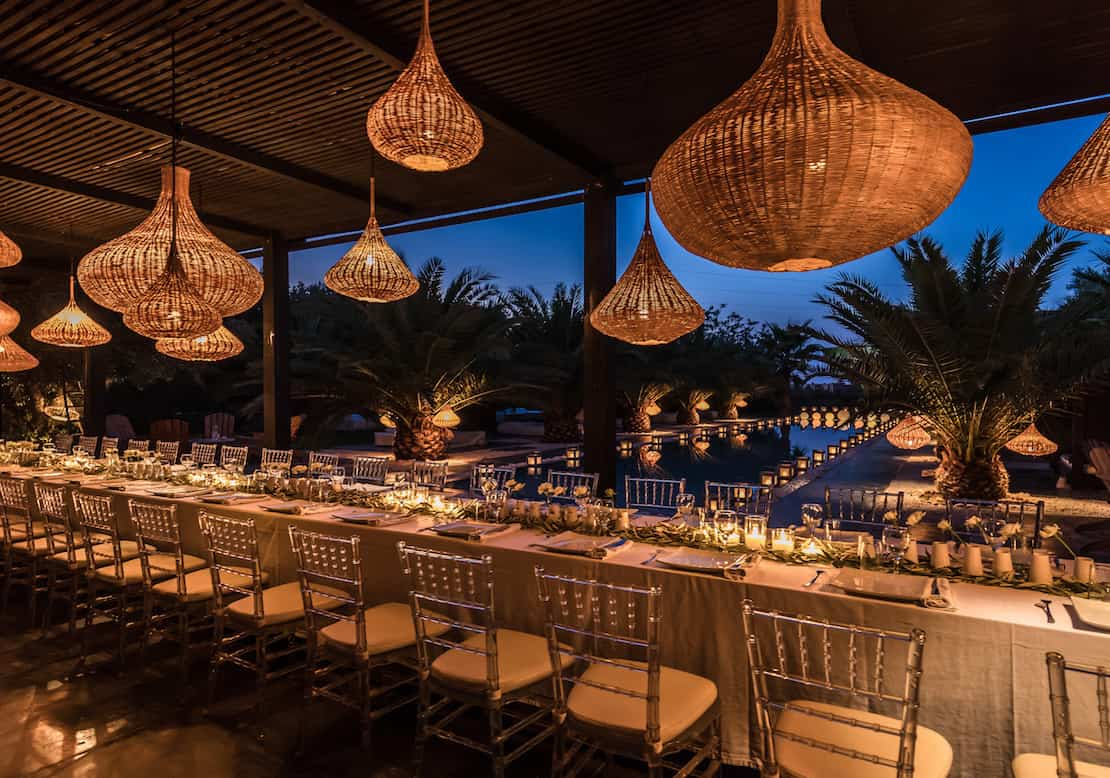 The organization team offers you the possibility to work on thematics for your corporate event in Marrakech : resting and chilling, working stay, team spirit, presentation of prizes, integration of new employees or colleagues in case of merge or company buying,  launching of new collections of products of your company, etc…
We will work together to adapt all activities and space settings to reach your objectives.
Wedding birthdays and seminars in Marrakech
Member of Villanovo